Members - remember to log in to read articles which are available to members only!
The ASG Council has roles and responsibilities as laid out in the Constitution. The Council meets regularly, and members may view the minutes of Council meetings.
The office holders for 2018-2019, and their assigned responsibilities, are as follows:
Julian Gibson

President
Society Webmaster (lead)
ETMO Working Group
PVG Representative
Outreach (various)
Acre Road Support
Constitution Working Group
ASG Telescope Custodian

Bob Hill

Vice President
Membership Secretary
Data Controller
ETMO Working Group 

Colin Robb

Vice President
Astrophotography Group (lead)
Acre Road Support
Outreach (various) 

Paul Makin

Vice President
ETMO Working Group
ASG Webmaster Support
Outreach (various) 

David Degan

Secretary
Summer Outing Organiser
Kelvingrove Point of Contact
Roukenglen & RSPB Outreach
Society Supplies Buyer

Robert Hughes

Treasurer
Kindrogan Organiser
GSC Point of Contact
ETMO working Group

Henry Bryce-Smith

Ordinary Council Member
ETMO Working Group
Observing Section Visual Presentations

Alastair Clyne

Ordinary Council Member
Constitution Working Group
Social Media Working Group

Frank Conn

Ordinary Council Member
Society Publicity
Constitution Working Group
Outreach Support (Various)
Auchengillen (Scouts) Point of Contact
Hamilton Low Parks Museum Point of contact
Custodian of the Lecture Attendance Book
ASG Telescope Custodian

Andrew Conway

Ordinary Council Member
ETMO Working Group (project lead)
ASG Telescope Custodian

Alex Dumitriu

Ordinary Council Member
ETMO Working Group (hardware lead)
Society Deputy Treasurer
Society Deputy Webmaster
ASG Telescope Custodian

Craig McNey

Ordinary Council Member
Constitution Working Group (lead)
Newsletter Sub Editor (review)
Roukenglen Point of Contact
Acre Road Point of Contact (Univ. of Glasgow)
ASG Event Rota Contact

Lorna Napier

Ordinary Council Member
Newsletter Editor (joint)
Newsletter Distribution (Email & Postage)
Curator of Outreach Materials
Acre Road Support

Chris O'Kane

Ordinary Council Member
Public Relations Spokesperson (TV/ Radio)
Newsletter Editor (joint)
RSPB Point of Contact
New Lanark Point of Contact
Whitelees Point of Contact
Acre Road Support
Curator of Outreach Materials

Jen Toher

Ordinary Council Member
Facebook Moderator
Twitter Moderator
Roukenglen Outreach
Whitelees Outreach
Social Media Working Group (lead)
Society Supplies Buyer
ASG Survey Co-ordinator

Ian Wylie

Ordinary Council Member
ETMO Working Group
Acre Road Support
| | |
| --- | --- |
| Photo by E Gibson | Photo by R Hill |
The ASG either hosts or attends a wide range of public events during the year:
A varied range of Outreach Activities, including talks, solar observing during the summer months, and more general night time observing during the rest of the year.
Click on the links to find out more.
ASG Members have access to a broader range of activities and resources, including monthly newsletters, observing nights and dark sky nights. For the 2018/2019 session, we're also hosting an introductory astronomy course, and astrophotography training for more advanced users. To gain access to these events, you need to become a member.
Buying a Telescope
Beginners considering the purchase of a telescope should definitely read the general introduction from "Buying Your First Telescope" guide from Sky at Night magazine. Once that information has been digested, there are some good sites that recommend specific telescopes for beginners: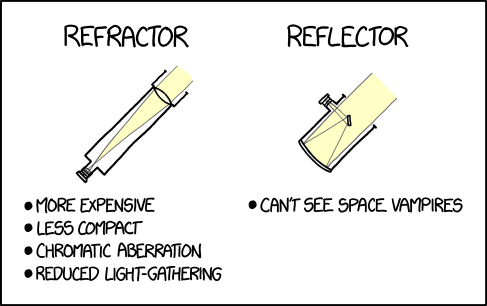 For anyone interested in the potential for amateur radio astronomy, a very interesting discussion of the possibilities is hosted by the British Astronomical Association.
Other Software and Websites
Stellarium is a free open source planetarium for your computer.  It shows a realistic sky as you would see with the naked eye, binoculars or a telescope.  Runs on Mac OS X, Linux and Windows.
Virtual Moon Atlas used by more than 750 000 persons all over the world. Used in several books, magazines, observatories, universities, Web sites and blogs. Used in Chandrayaan 1 lunar mission preparation. Recommended by the European Space Agency (ESA) and the French Ministry of National Education.  Available for Mac OS X, Linux and Windows.
Celestia is free space simulation software that lets you explore our universe in three dimensions. Celestia runs on Windows, Linux, and Mac OS X.
NASA Jet Propulsion Laboratory - information on all NASA JPL unmanned missions.  JPL also run The Theodore von Kármán Lecture Series every month.  This page has information on upcoming lectures and an archive of previously shown webcasts.
NASA Eclipse website - information on past and future solar and lunar eclipses, including the partial Solar Eclipse visible from Scotland on Friday 20th March 2015.
Astronomy Picture of the Day (APOD) - Each day a different image or photograph of our fascinating universe is featured, along with a brief explanation written by a professional astronomer.
Stargazers Lounge - popular amateur astronomy website, forum and source of information and advice.
Space Weather - news and information about the Sun-Earth environment.
NOAA / NWS Space Weather Prediction Center - the US government's official space weather site.
The BBC The Sky at Night magazine website - astronomy news, equipment reviews and information.
Public lectures for the 2018-2019 session
The ASG's programme of free public lectures for the 2018-19 session has now been finalised, and full details may be viewed by clicking here.
 We at the ASG are continually honoured to host a broad range of distinguished speakers, including Professor Clare Parnell, who gave the Leon Davies lecture in April 2018, and Dame Jocelyn Bell Burnell, discoverer of pulsars, who gave the Tannahill lecture in January 2017.
Dame Jocelyn Bell Burnell was presented with
the Tannahill Medal by Professor John C Brown,
Astronomer Royal for Scotland

Photo by E Gibson

Professor Clare Parnell was presented with
the Leon Davies Medal by Mr Julian Gibson,
President of the ASG

Photo by E Gibson
The ASG's programme of free public lectures for the 2018-19 session may be viewed by clicking here.